return to WJH home
Atlas of Anatomy and Morphology of
Croton glandulosus var. septentrionalis Muell. Arg.
click on the small images to open larger format images; scroll down for links to anatomy and morphology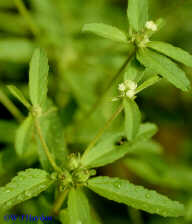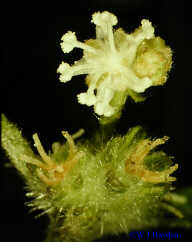 Inflorescence (left) and flowers (right); staminate flowers are clustered atop pedicels raised above the sessile pistillate flowers.
Croton glandulosus var. septentrionalis is a weedy herb common throughout the southeastern United States. It is one component of a complex assemblage of taxa that range southward through much of tropical America. Given the complexity of surface features in the genus (Webster 1993 - Taxon 42:793-823), it was thought that this species would provide interesting study material for students enrolled during the Fall 2004 semester in Biology 305 - Plant Anatomy at the University of Richmond. Students first prepared samples for study via SEM. Subsequently, the same tissues were embedded in paraffin for sectioning via rotary microtome and staining with a combination of hematoxylin and safranin or, in a few cases, toluidine blue O or aniline blue. This web site highlights the results of the class's efforts.
Leaf blade (lamina)
Staminate flower internal anatomy
See also: S. M. Hayden & W. J. Hayden. 1994. Stem development, medullary bundles, and wood anatomy of Croton glandulosus var. septentrionalis (Euphorbiaceae). IAWA Journal 15: 51-63.