EXHIBITION: DOCUMENTARY
January 26th to February 9th, 2011

TVTV: Four More Years

Lora Robins Gallery of Design from Nature
Boatwright Memorial Library, University of Richmond

Gallery Hours: Sunday to Friday, 1:00pm to 5:00pm
http://museums.richmond.edu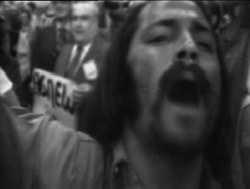 Image: TVTV, "Four More Years," 1972.
Courtesy Video Data Bank, Chicago.

Text: VDB online catalogue: http://www.vdb.org.
Reprinted with permission by VDB.
.
TVTV: Four More Years
60:00, 1972, USA
TVTV's inside view of the 1972 Republican National Convention made broadcast history. While network cameras focused on the orchestrated renomination of Richard Nixon, TVTV's rag-tag army of guerrilla television activists turned their cameras on to the cocktail parties, anti-war demonstrations, hype and hoopla that accompanied the show.
Biography: TVTV was formed in 1972 by Michael Shamberg, Megan Williams, Tom Weinberg, and Allen Rucker and enlisted the support of media collectives including Raindance, Ant Farm, and the Videofreex to provide alternative coverage of the 1972 Presidential nominating conventions. The Democratic tape, The World's Largest TV Studio (1972), and its Republican companion piece, Four More Years (1972) were among the first video documentaries to be broadcast. The convention tapes provided candid interviews with delegates and protestors alike, while exposing the foibles of the media, showing viewers "the underbelly of broadcast TV." Influenced by New Journalism and the versatility and novelty of portable video equipment, TVTV created a critically acclaimed, graphically inventive, intimate style of documentary satire. TVTV disbanded in 1979.