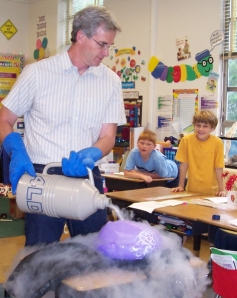 Physics Outreach
Dr. Gerard P. Gilfoyle
Professor of Physics
(804) 289-8255
ggilfoyl@richmond.edu

---
The Physics Olympics goes to Africa!

In the summer of 2013, one of the University of Richmond staff, Liz Malaugh spent a month teaching in Ghana and used some of the Physics Olympics labs here(see below for more on the Physics Olympics).

Richmond Public Schools

Each year I make 1-2 visits to local public schools for Physics Phun Pheats with my faithful assistant Catherine Gilfoyle (and occasionally Garrett). We show the kids how gases shrink when you cool them off with liquid nitrogen, how angular momentum is conserved on a spinning turntable, how to make electricity, and other neat stuff. Some pictures from past events are here.

Science Policy Talks

A few years ago I spent a year in government working on, among other things, nuclear threat reduction and WMD. I've discussed these topics at universities, national labs, and many local community groups like the Jewish Community Center, the Lions Club and Rotary Club. A recent talk is here. For more scan through the research part of my webpage.

Physics Olympics

The Physics Department at the University of Richmond sponsors an annual Physics Olympics where teams of high-school students compete for prizes and glory in a variety of ever-changing challenges. There's more here on the RPO.

Funsten Lectures

The Herbert O.and Edythe R. Funsten Lecture Series at the Science Museum of Virginia bring 'cutting edge science issues' to the public eye. I have given lectures on new directions in nuclear and particle physics and nuclear threat reduction.

Physical Constants Workshop

For a number of years the Physics Department at the University of Richmond held the Physical Constants Workshop. High school science teachers and two of their students were invited from all over the eastern United States to attend the Workshop. They would spend two days at the University doing experiments with modern equipment and learing about physics research.
---
Physics Department Home Page | University Internal Home Page